(Last Updated On: April 19, 2018)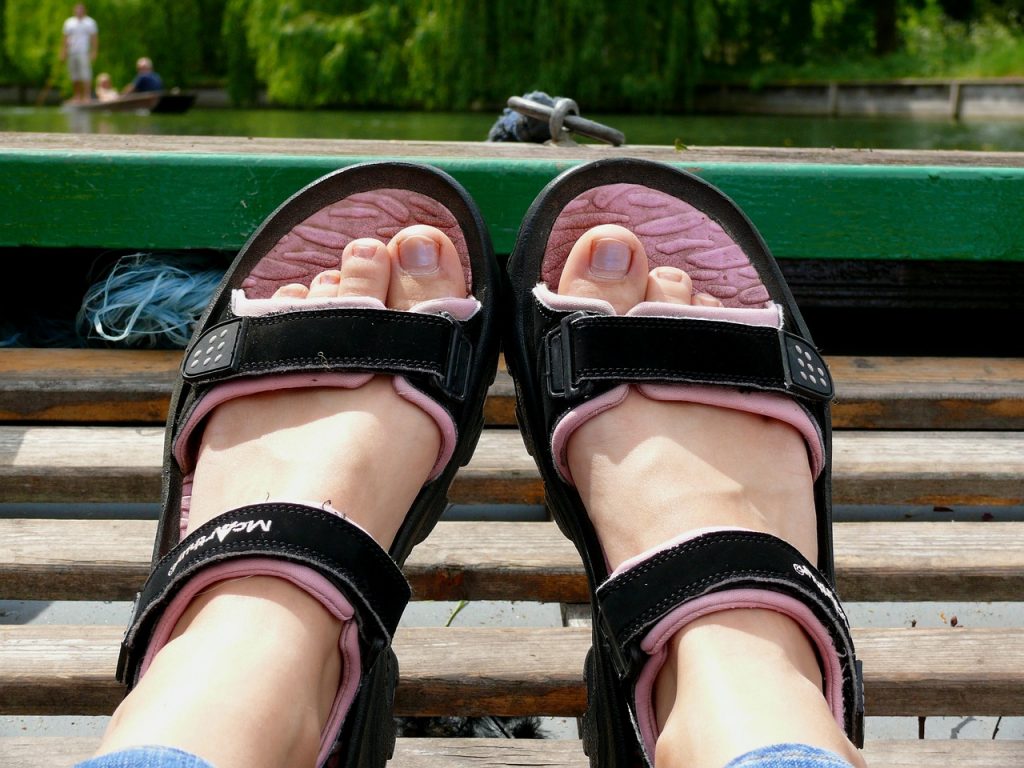 Now guys, you may not immediately think of this when you are trying to find a spring gift for your loved one, but giving the gift of perfect summer feet will show that you are using your imagination and finding something that your other half will really appreciate.
I would suggest that you ensure you treat her to a lovely pair of sandals too, before giving her some of the other things I am going to suggest, otherwise she may think you either have a weird obsession or that you are trying to tell her something.
But girls will understand. As the sun comes out – and boy was today hot for April – then out go the boots and in come sandals. Just look around and you will see toes wiggling at you in all directions. And if your girl is like most, she will want her feet in tip top condition before hitting the beach.
So how do we get to that stage? It's all about taking care and preparing them and soon you will have the perfect summer feet.
To start with, it's important to get rid of the dry bits. After a bath or foot soak, then dry carefully before using a pumice stone to remove the hard parts that everyday life has managed to inflict. Getting rid of the dead skin will be a great start.
Every day you should apply moisturiser. You can get special foot creams that are thicker and more luxurious. Some people recommend bathing at night, applying special foot cream, and then wearing a pair of thin cotton socks in bed to allow your feet to get the most benefit.
Moisturising your feet every day will help prevent or repair cracks in your skin. If cracks are present, and with your feet exposed to the world, then you are more likely to find dirt or debris finding their way in and maybe even causing you infections.
Whilst it may be lovely to get a pedicure the cost of constant visits may be prohibitive. However, if you buy in a foot bath then you know that will be a good investment.
Ensure nails are in tip top condition. If they are stained by nail polish, then scrubbing with a wedge of lemon will remove all but the worst stains. Trim regularly – little but often – with a good quality pair of nail scissors. Some people recommend cutting straight across to prevent ingrowing toe nails, however there is a danger of cutting the middle too short. Personally I would recommend a very gentle slope at each side.
Of course, most ladies like to polish their nails when they are out on show. Why not treat your special lady to a variety of colours, so that she can match her nails with her summer outfit?
If your feet are prone to be sweaty, then it is best to remove shoes and socks as soon as you get home, wash your feet or soak them, and dry thoroughly before moisturising. You may find that you need to use a foot powder each morning to help prevent or treat any fungal issues you may have. Make sure that your shoes have plenty of time and air to dry out thoroughly too.
Once your feet are out in the sun, don't forget to apply sun screen! It's easy to forget that they are not exposed often, and so may require a higher factor, especially if it is very hot very early in the spring, and they have not had a slow build up to being exposed.
And of course, don't forget that perfect summer feet require great sandals to adorn them. Buy your girlfriend or wife a lovely pair of sandals and she will know that you have put the effort in coming up with something different, for a change. Choose a good quality pair, perhaps with leather soles. Make sure they are hard wearing, and do not bend or fold, as these will not give the correct support and may easily break.
By giving the gift of perfect summer feet, not only have you given some thought into what your loved one will really appreciate, you will also be in her good books all summer. Make sure that you are ready for some impromptu days at the beach as she will be proud of her feet and won't be hiding them at home covered up!