(Last Updated On: September 11, 2018)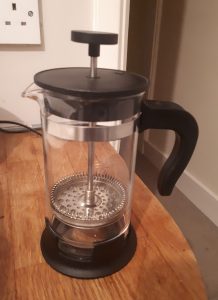 For Father's Day back in June, my gorgeous girls bought me a 1 cup coffee plunger. Quite a simple present, and certainly not the most expensive, but it has been one of the best presents I have received in years.
Now, I am no coffee snob, but I do like coffee. However I would never bother to go to the effort of all those different machines – I am quite happy with a bit of (quality) instant. I know, I know… But having my new present has pushed me to us it, and I now look forward to a better quality coffee every morning.
I am currently drinking an Italian filter coffee but will try various others. It's good to get me out of my habits sometimes – we all get set in our ways at times.
When it comes to coffee lovers, they're one of the easiest groups of people to buy something for. If you are offering them a way to get their coffee fix then you know that your gift will be well received.
You can find gifts for them in all sorts of categories. There are clothing items for coffee drinkers like T-shirts, sweatshirts, pyjamas or slippers. You can buy decorations like throw blankets, clocks or wall signs.
But out of all the gifts that you can choose from, there are five that are guaranteed to be a hit every time for anyone who drinks coffee.
Speciality Coffees
Every coffee lover has certain kinds of the beverage that's their favourite, but they're always open to discovering new coffee. You can buy speciality blends or flavours for them to try.
Many of these coffees are sold in individual bags, but you can buy one of the sampler gift sets, which often contain three or more different flavours for someone to try something new.
I think this would be a great way of trying flavours that you may not have purchased yourself. In fact, this is precisely what my daughters did, as I also received a set which had Brazilian, Kenyan, Colombian and more varieties. Each little sample was enough for 3 cups – perfect!
Coffee Mugs
Another gift just for coffee lovers are mugs. There are regular "around the house" mugs, travel mugs that you can take with you on the go and there are unique mugs that are related to interests like certain television shows or movies, or ones for hobbies like sports teams or for craft interests like knitting.
You may buy a thermos mug for someone who commutes to work. This saves them stopping off en route to the station, and also helps with the war on single use plastics and litter.
But the ultimate gift mug for a coffee lover is the heated thermos mug that plugs into a vehicle's cigarette lighter and keeps the beverage hot for the duration of the trip – whether it's a long one or one that's just for running errands.
Coffee Grinder
If your friend or loved one has the patience and really likes to get into the technical side of things, then why not buy them a coffee grinder. That way they can grind their own coffee beans to be used in any coffee machine.
Whether you choose a manual coffee grinder, or a more sophisticated machine, your coffee lover will be over the moon. Just don't expect them to come out of teh kitchen for a while.
Coffee Organiser
Finally, one of the best gifts for coffee lovers is a coffee organiser.
These decorative storage solutions free up counter space in the kitchen and keep everything – including flavourings, creamers and stirrers – together in one handy place.
I hope this gives you some ideas when it comes to buying a gift for the coffee lover in your life. I will take a look at coffee machines themselves in the near future.